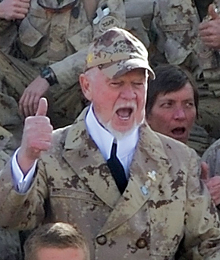 Don Cherry has turned down an honorary degree from the Royal Military College of Canada after at least one faculty member objected. Cherry's decision was made public by the college on Saturday, less than two weeks before the Cherry was to receive the award.
Media reports this past week suggested at least one of the college's professors opposed the school's plan to openly support Cherry. The professor sent an open letter to a Kingston, Ont., newspaper. It blasted the former hockey player and coach for his controversial views on French-speaking Canadians, immigrants and the gay community. The letter said giving Cherry the award sends the wrong message to students. I have to agree with those sentiments. Cherry chooses to be "colourful", polarizing and controversial. There is a price to be paid for being all those things plus more.

The college's principal, Joel Sokolsky, says the school regrets losing a chance to recognize Cherry's outspoken support for Canadian Forces personnel.